The Brand-Building Canvas:
How to Build a Business and a Brand in One Go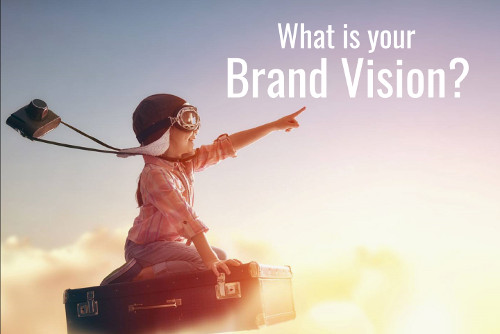 The Brand-Building Canvas can be used for both Business Modeling and Brand Identity Planning
Entrepreneurs never just create a business – but also a brand at the same time. Today, the 'symbolic meaning', the brand's vision and story are not just a nice add-on, but in many cases the central idea of a new business. Most young entrepreneurs do not just want to make money, but create purpose-driven brands. As building a business and building a brand are so closely intertwined, the Business-Building Canvas (Osterwalder and Pigneur, 2010) was combined with brand identity planning into the Brand-Building Canvas. As it covers all aspects in the Business Model Canvas and the major brand identity planning models, it can be used to analyze and develop a business model and a brand's identity.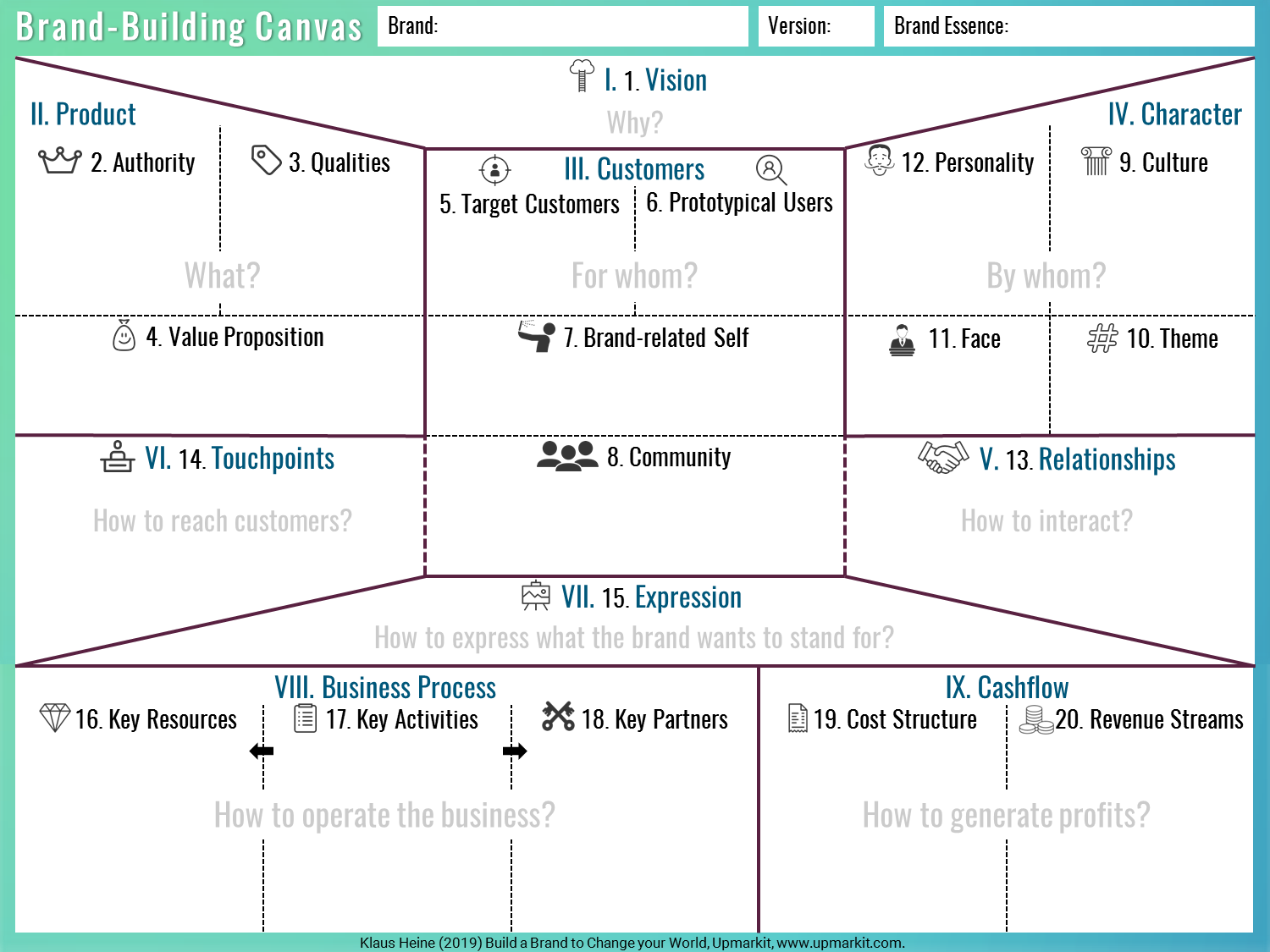 The Brand-Self-Seven
If you focus on brand-building, you need to consider only the first seven blocks of the Brand-Building Canvas.
This part is referred to as the Brand-Self-Seven: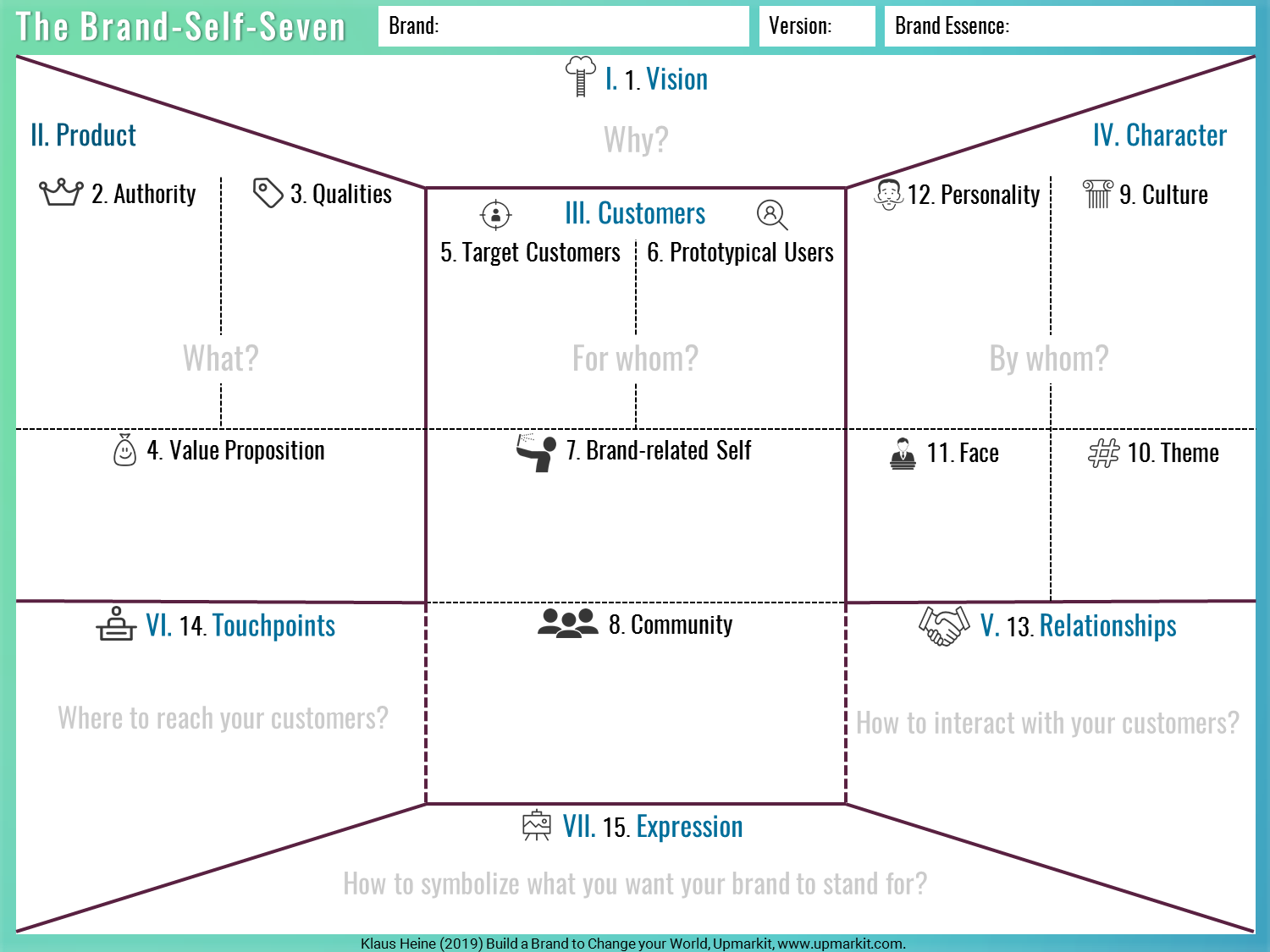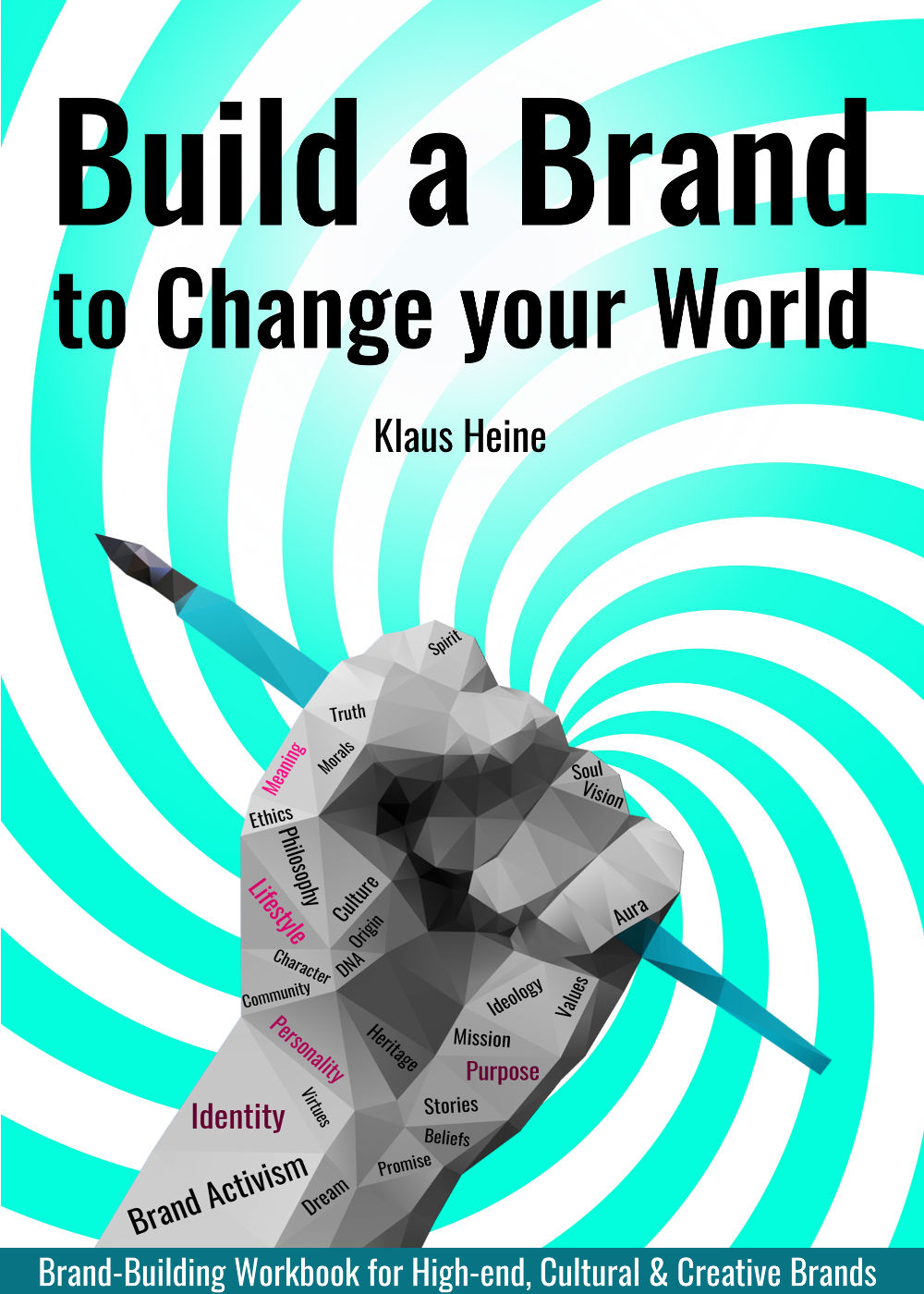 The Brand-Self-Seven (the Big Seven of Brand Identity) help to develop a Brand's Self (Identity) by moving through seven Brand-Building Blocks.
The seven blocks of the Brand-Building Canvas are arranged simply by common sense: The Vision is on top (block I); the Product (business idea) is the starting point (block II); the Customers are in the center of attention (block III); it follows the Brand Character (the meaning behind) on the left (block IV); Relationships describe the mode of conduct between the brand (IV) and the customers (III) (block V); Touchpoints connect the products (II) with the customers (III) (block VI) – and all this is symbolized by  Brand Expressions, placed at the bottom (block VII). Assuming you want to explain your brand to a colleague, agency, or friend, the seven blocks help you to answer their typical questions about a brand: What is the product (advantage)? Who are the customers? Who is behind the brand? Why are they doing this? How do they reach customers? How do they deal with their customers (personal, automated, etc.)? How does the brand look like (logo, etc.)?
Because of their focus on non-functional benefits, this template is particularly suitable for identity-driven brands (lifestyle brands), especially for high-end, cultural, and alternative brands. The Brand-Self-Seven template provides the foundation and structure of the book "How to Build a Brand to Change your World." Each main section of the book provides an overview about one of the seven major brand-building elements. As some of them cover various other brand identity elements, they are structured by additional brand-building templates.
A short Overview about the major Brand Identity Elements
Block I: Vision
Similar to a great dream, a vision is a picture of the preferred future of a brand, but also of the future of society and the subculture or industry in which the brand operates. As part of the vision, the brand purpose outlines a brand's fundamental reason for existence and how it aims to make the world a better place. As a brand's overarching guiding idea, the vision shapes a brand's identity and influences all other aspects of marketing and branding. Therefore, it must be part of the brand identity (but is not included in most major models). In addition, it makes no sense to class the vision as a subcategory of another brand identity element (e.g. part of 'Brand Tonality' by Esch, 2017), but it should be placed on top of the brand identity model.
Block II: Product
Product-related associations are a major component of brand image (Keller, 2003). As the most important components of brand image play the biggest role in shaping people's opinion about a brand, they should be included in brand identity planning. Whatever is unimportant in shaping brand attitudes, does not need to be considered for the development of brand identity. This brand-building block refers to the products and product characteristics you want potential customers to associate with your brand.
Block II.2: Brand authority: If consumers are interested in a product category, they generally have some idea about what brands they believe to be the quality leaders. And when they think about a certain brand, they ask themselves: What is this brand really good at? This brand identity element covers the 'product scope,' 'product uses' and 'competencies' that you want your brand to be known for (Aaker, 2010; Kapferer, 2012).
Block II.3: Brand Qualities: Brand qualities cover the attributes and benefits that a brand wishes customers to associate with its products. What you would like your brand to represent may also depend on (1) your customer's product evaluation criteria and (2) the product characteristics of your competitors. Brand qualities provide the basis for positioning.
Block II.4: Value Proposition: The value proposition outlines the most convincing reasons (key benefits) why target customers should purchase a particular brand/product. To differentiate from competitors, you can try, over time, to make your brand known for products that fulfil a specific key benefit. The value proposition is something each of your employees and customers should know about – therefore, it must be part of the brand identity.
Block III: Customers
When asked about their opinion about a certain brand, people often immediately describe the typical customer they have in mind (Keller, 2003). As a typical component of brand image, it must also be a major brand identity element.
Block III.5: Target Customers: Ideally, target customers refer to a specific niche segment. They are often not the same people who you want your customers to think would buy your products, but they are still part of the brand identity for these two reasons: First, thinking about a brand's prototypical users without specifying its target customers first, leads almost always to confusion. Second, brand identity does not only refer to what you want customers to think about your brand, but also what you want to your brand to be. Apart from segments that are unattractive in terms of economic criteria (e.g. purchasing power), you may want to stay away from customers who do not fit to your brand (vision, values, etc.).
Block III.6: Prototypical Users: This brand identity element describes the typical users who you want your customers to associate with your brand. A brand's 'proto-typical user image' refers to consumer perceptions about the users or buyers who seem to be addressed by the brand. Depending on their opinion about these perceived users (if actual clients or not), people more or less like or dislike this brand. Because this has a great impact on their business success, brands aim to influence their prototypical user image through brand communications. Porsche portrays in adverts men who are as young and dynamic as their actual 60+ customers would like to be again. The prototypical user represents the ideal (social) self of your core target customers – the person they would like to be.
Block III.7: Brand-related Self: The 'brand-related (desired) self' describes what you want your customers to feel and think to become when using your brand/products (Kapferer, 2012). Dove clients may feel being more beautiful and self-confident when using their creams. Connecting your brand/products with the life goals and desired self of your customers means that they can be used by your customers as means to achieve a higher end: to feel living their desired lifestyle and to become 'who they really want to be.' This brand element can help your brand to play an important role in the lives of your customers and can help you to connect your customers to a higher purpose (beyond the self), to achieve even 'irrational loyalty' (Tait, 2013).
Block IV: Brand Character
This is the core identity that characterizes the 'who' behind a brand (also called 'brand tonality' by Esch, 2012). Given that consumers find it increasingly important to know who's behind a brand, this brand-building block provides a key source for creating (symbolic) consumer benefits.  
Block III.8: Brand Culture: Every group of people develops a common subculture over time – and everybody is part of a culture or of different subcultures. So everybody does not only have a personal, but also a cultural identity. This should be reflected in the brand identity framework by having both: brand personality and brand culture. Facets of brand culture include place of origin, brand nationality, brand spirit, brand values, brand principles, and brand lifestyle. When you associate your brand with a subculture, you create brand meaning and inspiration. For instance, Ralph Lauren represents American aristocracy and Boston high society and WeSC (fashion) is rooted in skate-boarding. Brand culture creates the frame for brand personality.
Block III.9: Brand Theme: Brands are constantly driven today to create new (social media) content to grow traffic and sales. But many brands just add noise by creating content for content's sake. A brand theme is particularly useful to provide direction and meaning to a brand's (social media) content marketing, which is so important today that it should be included in the brand identity model. It is an 'overarching idea' that provides the foundation of your brand's content strategy over the long term and can inspire the design of your marketing-mix instruments (posts, websites, adverts, events, stores, etc.). For Louis Vuitton, for instance, 'travel' has been a major inspiration since the brand's beginnings in the 1800s.
Block IV.10: Public Face: When asked what they know about a certain brand, consumers typically come up also with people-related aspects, about the brand's founders, owners, managers, designers, and other representatives. This brand identity element describes who is behind a brand. For instance, for many consumers it makes a difference whether this is a family business or some multinational corporate group. Given the desire of many people to establish trustworthy (business) relationships with real people, brands need to think about who they want their customers to see as the face of their brand. Many fashion designers or star chefs become the face of their business and develop into personal brands. However, every brand should cultivate at least one powerful personal brand from within the company.
Block III.11: Brand Personality: Brand personality is so well-established and important for brand-building that it is included in all major identity models. A brand's personality is often described by only a few personality traits such as decent, cheerful or honest. To create a more meaningful, inspiring and consistent brand, you can employ personality-driven branding strategies: (1) Describe your brand personality in sufficient detail to evoke a metaphoric mental picture about the person you want your brand to represent; do not just rely on personality traits, but also include demographics, life goals, motives, reference groups, etc. (2) Imagine your brand to be a real person and keep her/him in mind for all type of branding decisions (about the design of a website, store, etc.).
Block V.12: Brand Relationships
This brand element is considered in most of the major brand identity frameworks (by Aaker (2010) and Esch (2017) as a subcategory of brand personality). The brand relationship block describes the mode of conduct and operation a brand aims to establish with its target customers and other stakeholders. They impact the way a brand behaves, delivers services and communicates with its clients. Companies like Uber created competitive advantages by disrupting the established relational roles in their industry (from driver/passenger to entrepreneur/supporter).
Block VI.13: Brand Touchpoints
Touchpoints generally refer to the principal stages customers pass through in their interaction with a brand. When people think about a brand, they also associate typical communication and distribution touchpoints with the brand (Keller, 2003). Therefore, touchpoints should also be considered in brand-building as a component of brand identity. Brand touchpoints describe for what type interaction and marketing channels a brand wants to be known for. For instance, to become an internationally renowned luxury house, brands need to develop concept stores in prestigious shopping streets such as Avenue Montaigne in Paris.
Block VII.14: Brand Expression
When you know what your brand should stand for, it is time to think about how to express that to its target groups (also referred to as 'brand as a symbol' by Aaker, 2010). For instance, Louis Vuitton uses the Monogram Canvas pattern to express its heritage and elegance (Esch, 2017). A brand's identity can be expressed by brand design, communication, and behavior. Brand design alone is a broad field of work including, for instance, the brand logo, layout, colors, and typography. Many companies still instruct an agency to develop their website without thinking first about what they actually want their brand to stand for. And many agencies still start with the brand design before laying the conceptual groundwork. The process of identity planning works like a structured creativity technique that delivers the creative input for brand design. A meaningful, inspiring and consistent brand design is an expression of the great deal of thought and effort spend on the conceptual work.
Sources: Heine, K. (2019) How to Build a Brand to Change your World. Upmarkit: Tallinn.
Heine, K. (2019) THE BRAND-BUILDING CANVAS: How to Build a Business and a Brand in One Go. The European Business Review, March/April: 50-54, read a short version online.
Osterwalder, A. and Pigneur, Y. (2014) Business Model Generation. John Wiley & Sons: Hoboken.
Publication date: 26.11.2017, last updated: 1.10.2019