Build a Brand to Change your World
A Step-by-Step How-to Guide for Building high-end cultural & creative Brands,
to create a powerful Brand from scratch or to rethink your existing Branding Strategy.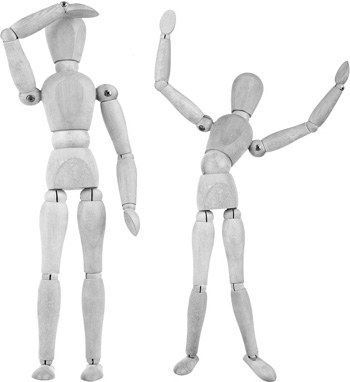 Entrepreneurs never just create a business – to succeed, they need to create a brand at the same time. This book is a step-by-step how-to guide for the entire brand-building process – to create a powerful brand from scratch or to rethink your existing branding strategy. Based on the Brand-Building Canvas and a modular system of related brand-building templates, it gives an overview of all the branding tools and concepts needed to build a strong brand. It takes you on a ride from brand vision to mission, from brand spirit and philosophy, brand ethics and values to brand personality and brand lifestyle. You will learn how all the brand identity elements are related and how to practically apply them to your brand – with the help of best-practice examples, role models and case studies, hands-on how-to guides, checklists, and overviews of critical success factors and the major strategic options that you have at various stages of the brand-building process.
Above all, this is about creating BRAND MEANING. It helps you to find out what you want your brand to stand for. Because consumers are increasingly judging brands by what they believe in, stand for, and do in the world, it is vital to establish a compelling brand meaning – and many entrepreneurs also want to work on something they truly believe in. We will go through all the options that you have to underpin your brand with meaning. This can be a compelling higher purpose to improve the world, values and good intentions, authority in a specific field of expertise, the association with an appealing reference group, a specific region-of-origin or old tradition, and an affiliation with a certain art movement, philosophy, or subculture.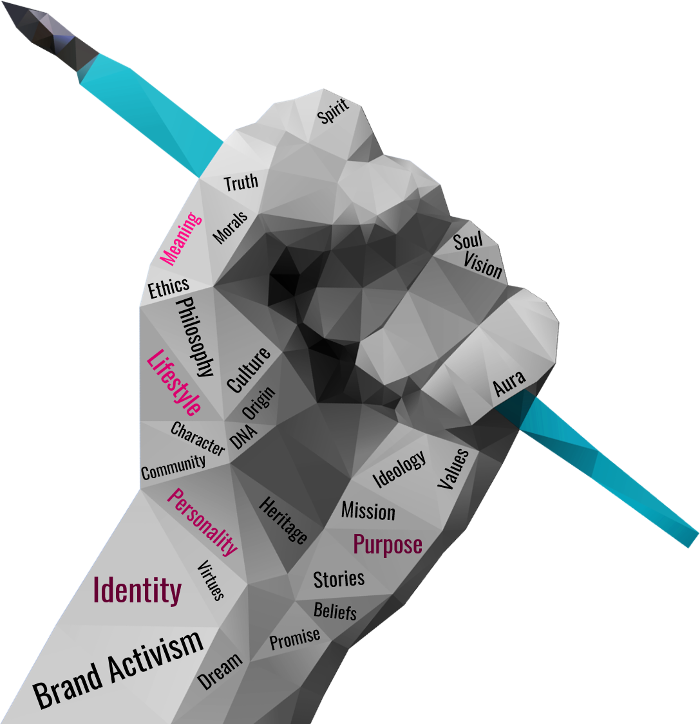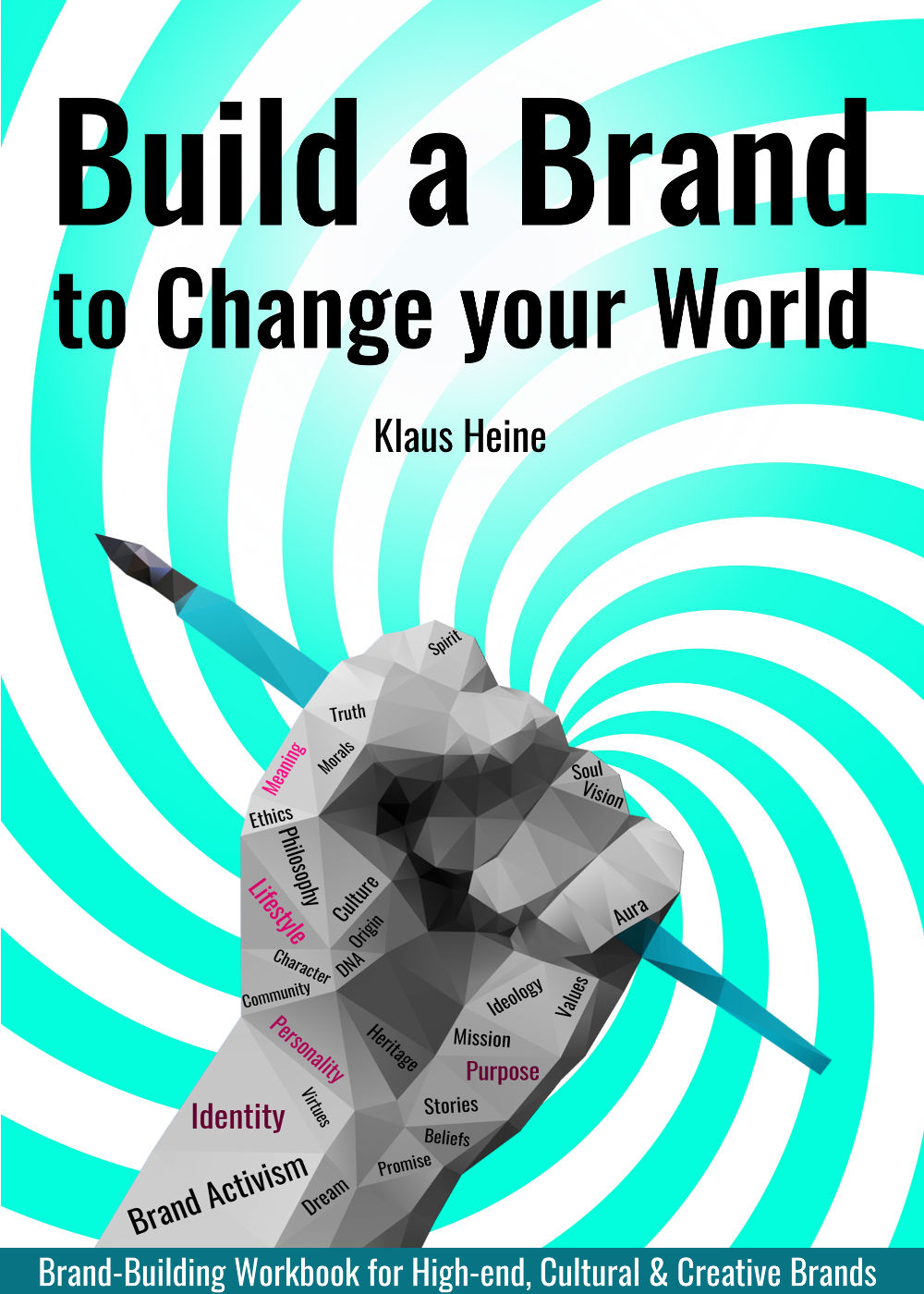 In this way, you will learn to develop a specific type of brand: A lifestyle brand, driven by a strong identity and a higher purpose, which is often an ethical and sustainable brand, an alternative and spiritual business, or even an activist brand. As this type of brand may contradict with business practices in the mass-market, we will concentrate on the high-end cultural and creative industry, which spans from the arts and craftmanship to high-tech – and also includes people businesses such as artisans, designers, and healing professionals. By connecting brand-building with consumer psychology, the book provides scientifically based practical solutions – so you will learn step-by-step how to build a high-end brand with a higher purpose – to change the world for the better.
Building your Brand is a Journey of Self-Discovery
Developing an identity-driven brand requires, first of all, to understand your own identity: Who do you want to be? What is your higher purpose that motivates you to jump out of bed in the morning? How can you fulfill your 'reason for being' through your brand? Based on the Japanese concept of ikigai, the book outlines a brand-building process that is also a self-discovery process (including some self-exploration exercises and personality tests).
Make use of Consumer Psychology
The book connects brand-building with consumer psychology. It explains how you can make your customers see that there is a higher purpose for your company and how to specifically define that greater end. It outlines the best techniques to uncover deep-rooted Consumer Insights – to connect your customer's life goals with the purpose of your brand. It also describes various frameworks of consumer psychology that help you to better understand both, your customers and who you want your brand to stand for (your Brand Personality). Throughout the book, you will learn about the major branding success factors based on research in the field of psychology and persuasion.
What are the main Branding Strategies the Book draws on?
While positioning-based (mass) marketing aims at defining and constantly adapting its market positioning according to market research and consumer surveys, identity-driven (high-end) brand management means deriving the brand philosophy from inner beliefs and visions. The major challenge of identity-driven branding is to find out what a brand should actually stand for – to develop brand identity: a detailed construction plan of brand meaning. For many lifestyle brands, symbolic benefits even exceed functional product benefits. This means that big parts of product benefits are not made in the factory, but in the marketing department (Heine et al., 2018).
As customers are increasingly interested in understanding the brand purpose, character, culture and business practices, successful brands focus on 'why' they do what they do, instead of what they're selling. Purpose-driven entrepreneurs pursue innovations in culture & society, not in products. But it's quite a challenge to find a meaningful band purpose – and, ideally, to combine it with life goals of the target customers.
The personality-driven approach to branding can complement identity-driven branding and take it one step further. Drawing on the concept of anthropo­morphization, the central idea of personality-driven branding is to enliven a brand in the minds of brand managers and company employees (MacInnis and Folkes, 2017). Instead of describing a brand's personality with just a few terms, managers should have a metaphoric picture in mind about what kind of person their brand represents, just as if they would think about a 'real' person: What are the brand personality's goals in life? What is her/his lifestyle? How does s/he look like? How would s/he design a website or flyer? Developing a brand personality allows you to create meaning, to know much better what and whom your brand should actually represent. Personality-driven branding sees the brand personality as an intentional agent and the focal point for brand management, who guides all branding decisions and provides inspiration. If all employees were to align their actions with the desired brand personality, the organization would appear to act as one person (Heine et al., 2018).
In the 19th century, it was common that a manufacturer would vouch for the quality of his products with his family name. Companies were 'humanized' as their founders and owners were their public faces, which helped building personal and trustworthy relationships with customers. Today, customers still want to connect names and faces to the brands they like as much as they did a century ago. The point of giving your brand a face is turning it into a human-like relationship partner (Fournier and Alvarez, 2012). A person selected as the brand's public face should be developed as a 'personal brand' that is representing the company. One of the major success drivers for self-employed people in creative industries, such as designers, artists, chefs, or architects, is to turn themselves into a 'person brand.'
What's included?
Brand-building toolkit: The Brand-Building Canvas and a modular system of brand-building templates give an overview of all branding tools and concepts which are needed to build a strong brand
Many real-life examples and case studies illustrate the success drivers of high-end brand-building
Hands-on how-to guides explain how to apply the brand-building techniques in practice
Decision Boxes provide an overview about the major strategic options you have at a particular stage of the brand-building process
Checklists summarize the do's and don'ts of brand-building
About 280 pages
Contents Overview
Build a Brand to Change You... by Klaus Heine on Scribd
Heine, K. (2020) Build a Brand to Change your World: A Step-by-Step How-to Guide for Building High-end Cultural & Creative Brands, 2nd ed., Upmarkit: Tallinn.