Call for Papers: International Workshop on Luxury Retail, Operations and Supply Chain Management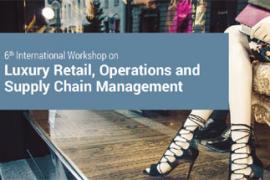 Luxury is about delivering symbolic and experiential value. There exist a number of factors whose existence is critical for luxury companies to obtain competitive advantage. In this vein, luxury companies need to coordinate different business functions simultaneously. That is to say, production and supply chain management must be coherent with marketing and demand management to combine functional, experiential and symbolic values. Nevertheless, in the new luxury paradigm where luxury is becoming more and more accessible and where changing industrial dynamics exist, such as the growing concern over sustainability and the see now buy now movement, luxury companies are constantly challenged in terms of operations management aspects.
Luxury companies require a deeper understanding on how to form direct relationships between brands, suppliers and customers. Yet, the scientific community has shown interest in luxury management from sociology, marketing and branding standpoints thus far whilst leaving supply chain and operations management rather unattended.
To this end, there are a number of topics in which academic research can show how to further formulate operations strategies. Given that integrating production, logistics and marketing could deliver significant benefits, rigorous investigations between supply chain management and luxury fashion could enable both practitioners and academicians to reach a consensus toward better-formulated decisions.
Politecnico di Milano organizes the sixth edition of the International Workshop on Luxury Retail, Operations and Supply Chain Management on November 27-28, 2017 by bringing together opinion leaders, academicians and practitioners to understand how to overcome challenges and embrace growth in the luxury industries. The luxury workshop aims to create a distinctive platform to advance the luxury management across cross-disciplinary groups.
Further information could be acquired via hakan.karaosman@polimi.it for those who want to join this international conversation.
You can find the Conference Brochure here:
http://upmarkit.com/content/workshops/20170810-Luxury-Workshop_2017.pdf
Hakan Karaosman,
Ph.D. Research
Politecnico di Milano
Hakan.karaosman@polimi.it